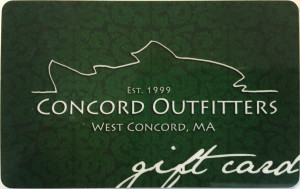 Looking for a gift that your loved one really wants for their birthday, Father's Day, Mother's Day, Graduation, or Christmas, but you don't know where to start? A Concord Outfitters Gift Card is the answer.
Available in $25, $50, $100, $250, $500 and $1000 denominations.
Click Here to order from our secure site or come into the store.
If you encounter any problems purchasing your gift card through PayPal please give us a call at the shop and we will be happy to help you out. You can reach us at (978) 318 0330.